Well, I made my first trip to the New York City Archives today, located in downtown Manhattan, next to City Hall.  I took the train in from Springdale, CT to Grand Central and then jump the 4,5,6 subway from Grand Central to Centre Street (City Hall area).  It was quick and easy trip without any trouble.  In fact, I got there 20 minutes early.
Once I got in, I quickly found myself lost in "oodles" of microfilm data.  It took me about 45 minutes to learn the process, but once I got going, it was really quite easy to find the data I was looking for.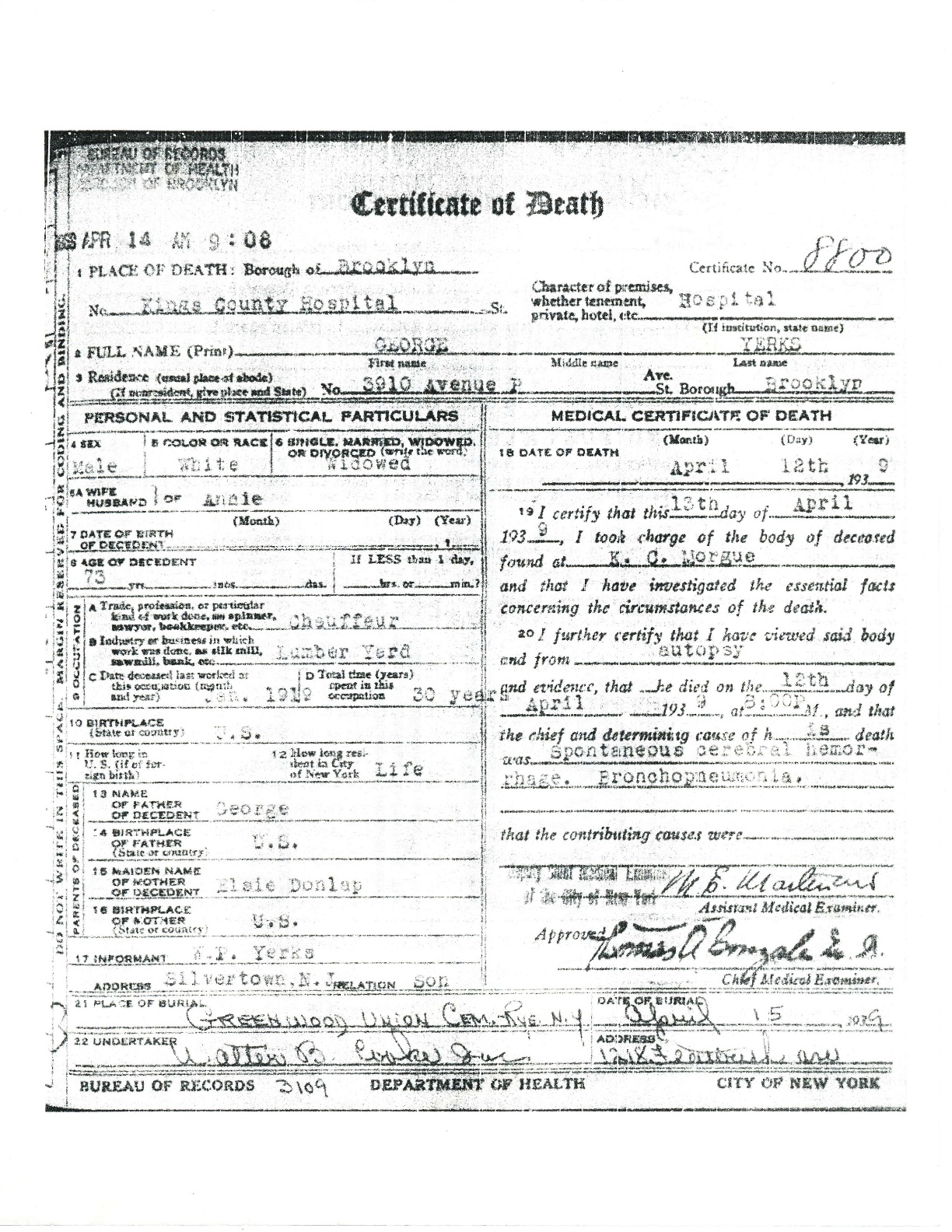 Since the place closes at 1 PM on Fridays, I restricted my search to just a few records I knew I could find.   The first one, which I was excited about, was the father of James Yerks I. Since nobody living knew anything beyond James, the first, it would be a real eye opener. On an earlier expedition to the Westchester County Archives, we found his wife's  Will and Probate papers; which allowed us to pull her Death Certificate from the Village of Port Chester; which led us to her burial place in Rye, New York.  She, Annie Cutler Yerks, was buried with her husband George Oakley Yerks, but there was no  birth or death year information on the headstone.  The Cemetery office staff  pulled his info card and advised me that he had died in Brooklyn!  I would never have guessed that.  So armed with the death year and location, I looked him up in the Index of Brooklyn Deaths in the year 1939.  He was the only Yerks listed there.  So I wrote down the certificate  number and looked up the actual Death Certificate in another roll of microfilm.  Once I had it, I submitted a slip summarizing the info found and the microfilm to the office staff, who printed the Death Certificate for me.  Lo and behold, George Yerks' father was…. George Yerks.  He was married to  an Elsie Donlap.
So the records I obtained on this trip include:
Death Certificate: George Oakley Yerks, 1/12/1939
Death Certificate: Henry William Lewis, died 8/9/1899
Death Certificate: James F. Tierney, died 11/6/1896 at age 29
Death Certificate: Jonathan J. Beattie, died 1/8/1913
Death Certificate: Mary Beattie, died 1/19/1913
All in all a very productive trip!