I recently received a packet of information about Patrick Hanley from the New York Police Department.  Patrolman Patrick S Hanley was appointed to the New York City Police Department on April 3, 1890 and was issued Patrolman Shield number 4866.
According to Patrick Hanley's Police Department "Transfer and Assignment Card", Patrick was born in Ireland on 9 September 1865.  But according to an Irish birth record I found, he was actually born on the thirteenth of September in the Garryfine / Rockhill area of Limerick County.  He was Naturalized in Brooklyn Court in 1886.  His former occupation was "Laborer" and he lived at 400 Prospect Avenue in Brooklyn. This was just five blocks from his sister, Catherine Hanley Lewis, who was living at 493 13th Street in Brooklyn in 1900.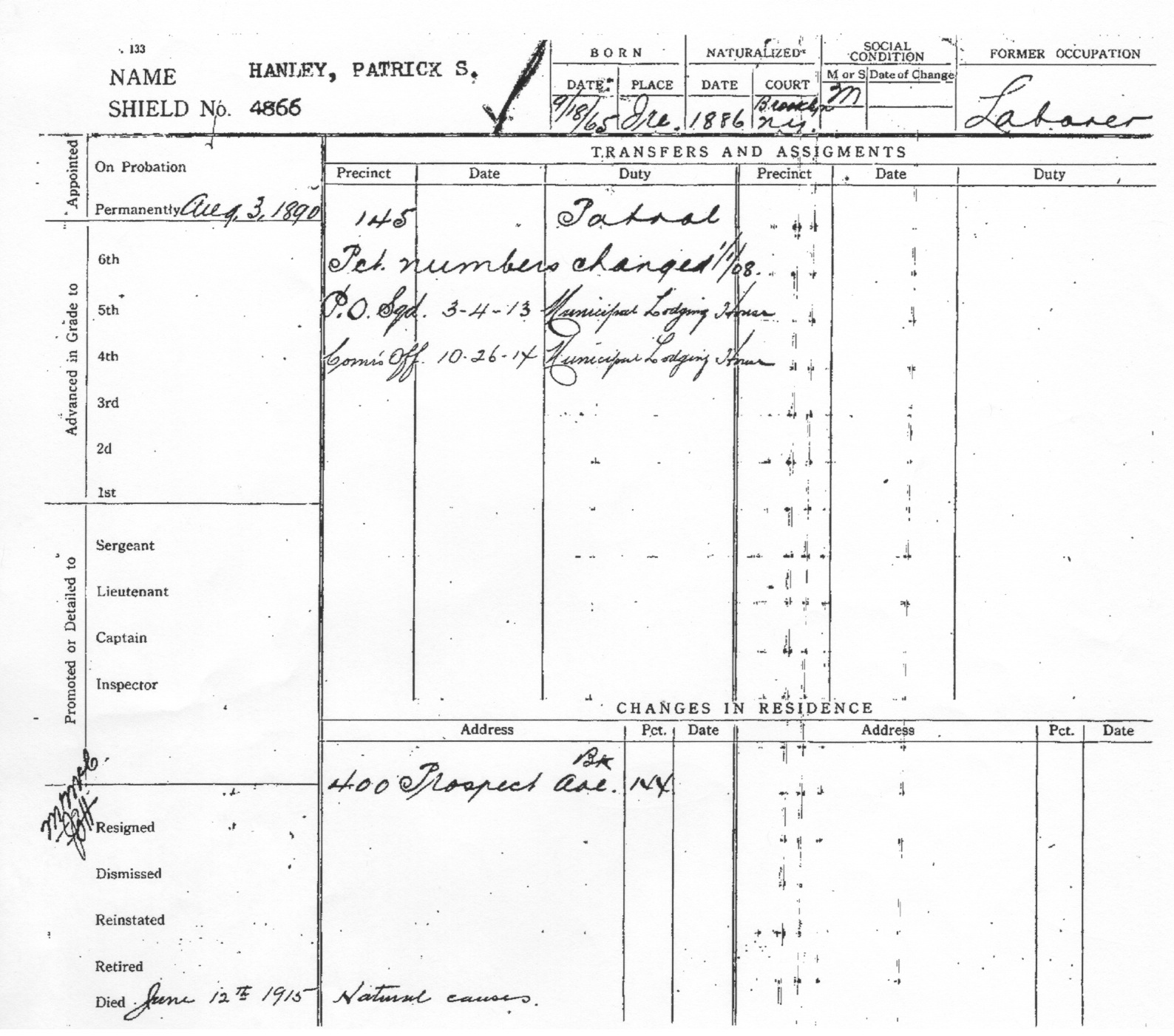 Patrick's first assignment was to the Patrol Division of Precinct 145. On 8 July 1912, twenty-two years after his initial appointment, Patrick Hanley was shot in the back while pursuing a Marine Fireman Strike shooting suspect on Imlay Street. This was just four blocks away from where the Lewis family had been living (Wolcott Street) since the mid-1800s.  According to New York Police Department General Order #2, dated 10 March 1913, William J McMillen received an "Honorable Mention With Medal" for eventually apprehending the man that shot Patrick in the back.
"At Hamilton And President Streets, Alexander Sabannano, a striking (marine) firemen, shot Ancieto Gonzales in the left leg. Sabannano had been endeavoring to persuade Gonzales to go on strike, and became angered at the latter's refusal.  Sabannano, pistol in hand, ran through Hamilton Avenue and turn into Imlay Street. Patrolman John Williams, Shield No. 4901, and patrolman Patrick Hanley, Shield No.4866, both of the 145th precinct, heard the shots and pursued Sabannano, who when the officers neared him, turned about and shot Patrolman Williams in the left leg. Williams fell.  Hanley reached for the fugitive, but tripped over some loose concrete and stumbled forward. Before he could recover himself, Sabannano took deliberate aim, shot Hanley in the back, and then continued on a run through Imlay Street. Patrolman William J McMillan, Shield No. 6618 and William J Kenna, Shield No. 4912, both of the 145th precinct, heard the firing. McMillen saw Sabannano in Bowne Street and made a rush for him. The latter (Sabannano) hid behind a fence.  When McMillen came within about thirty feet of Sabannano, Sabannano fired one shot.  The Officer returned two and commanded Sabannano to throw down his revolver.  The man obeyed.  Patrolman Kenna came up at this time and both Patrolmen took Sabannano in charge."
Patrick S Hanley and John Williams both received an "Honorable Mention" under General Order #2, for their conduct described above.
According to one newspaper account, Patrick was in the Hospital for eight months, recovering from his wounds.  Initially, he was reported as "dying in Holy Family Hospital" and was "not expected to live". But Patrick was eventually released and returned home to his wife and six children.
On 4 March 1913, Patrick was transferred to the Municipal Lodging Home, part of the P.O. Squad.  This assignment was most likely an effort by the Police Department Administration to find Patrick a light-duty job for him after his near-fatal encounter. Just over a year later, on 26 October 1914, it was noted that his duties at the Municipal Lodging home continued, but he was now assigned to the Commissioner's Office.
Patrick S Hanley's Transfer and Assignment Card indicates that he died of NATURAL causes on 12, June 1915, just three years after being shot in the back. His Death Certificate indicates that he died after five days of Lobar Pneumonia. Lobar pneumonia is a form of pneumonia that affects a large and continuous area of the lobe of a lung.  It would seem that this could be related to an incident just two years earlier. His Obituary seems to indicate that his family believed that his death was caused by his injury.
It appears that Patricks death was NOT classified as an "On Duty Death" by the New York City Police Department, which is often the case under similar circumstances. This is strange, since most of the research seems to indicate that his death was most certainly related to his injury. His family was never granted the recognition or benefits associated with a "Line of Duty Death".
According to  a letter by Grace Lewis, daughter of Catherine Hanley Lewis, there was a falling out between her Mom and Patrick's wife, Mary Keegan Hanley right around the time of Patricks death.  Could the falling out have something to do Mary not pursuing the "Line of Duty Death" status?  Of was is something to do with the funeral arrangements.  I guess we will never know.  Whatever the case, it is too bad that the two branches of this family never saw each other again.
Patrick Hanley is buried at Holy Cross Cemetery in Brooklyn, New York (Section St. George, Range 3, Plot 57-58).  It is the same cemetery where his father, mother and and two brother are buried.
Related Newspaper Articles