Yesterday, I decided to revisit beta.familysearch.org to look for any possible new records they may have added to their database.  My first query was for the "Kelty" surname in Manchester, England.  The Kelty surname is on my fathers side.  Bingo!  I quickly found some new related birth records.  Since I was not really prepared to do in depth "Kelty" research, I moved onto the next surname that popped into my head.  That name was Beattie.
Jonathan Beattie is my great great grandfather on my mother's side. He was born in Kirkcudbright, Scotland in 1829 and is the second child of Robert Beattie (b. abt 1804) and Elizabeth Gordon (b. abt 1807). He left Kirkcudbright for the United States in 1842 at the age of 17 and was the only one of nine brothers and sisters that came to the United States.  This family surname has always been a favorite of mine to research.  I have had tremendous success mapping out all the branches of Jonathan's descendants and have even become good friends with some of the new found cousins.
Well, today the Beattie family tree just got much bigger.  I queried for a "Robert Beattie" born in 1804 in Kircudbright (Jonathan's father).  Shoot… no direct matches found.  But the third listing from top was a Robert Beaty, born 10 Feb 1804 in Kircudbright to Robert Beattie and Ann Cameron.  Could that be him?
There was no real way to tell for certain based on the info in the record.  So I opened up my "Beattie" research folder and began looking around for clues.  One of the first things I looked at is the old letter of Beattie birthdays, marriages and deaths that was handed down through the generations.  The letter is in rough shape and is clearly missing several parts.   But at the top of what I believe to be the first page, it reads "…Feb 10th, 1804 in Kirkcudbright.  Elizabeth Gordon born Feb 25th 1804 in Gatehouse Fleet Parish…"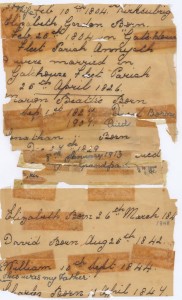 In my humble opinion, there is not a chance in the world that the "Feb 10th, 1804" date in the letter could be referring to anything other than Robert Beattie's birth date. So Robert Beattie's birth date is no longer "abt 1804".  It is 10 Feb 1804! Armed with this information, I headed over to the scotlandspeople.gov.uk website and downloaded a copy of the actual records (below).
So the reason I was stuck at this "road block" for the last couple of years was a spelling issue.  Interesting!
Armed with some new motivation and the new records at beta.familysearch.org, I quickly discovered ten other brothers and sisters, including a a set of twin girls named Agnes and Ann, born in 1810.  It  appears that the twins did not survive as those names were later reused on subsequent children.  Because of the initial spelling issue I discovered, I changed my search strategy to find the eleven children.  This time I searched for all children born in Kircudbright who had a "Robert" as a father and and an "Ann* Cameron"as a mother.  Notice that I did not define the last name and used a wildcard search for the name "Ann".  Good thing I did.  The children were found using three different spellings of "Beattie".  Ann is also seen as Anne and Annie.
John Beatie born 11 Mar 1802
Robert Beaty born 10 Feb 1804
Jonathan Beatie born 13 May 1806 (spelled as Jonathon on the original record)
Mary Beatie born 27 Aug 1808
Ann Beatie born 08 Oct 1810
Agnes Beatie born 08 Oct 1810
Ann Beatie born 09 Oct 1811
Joseph Beaty born 02 Aug 1813
Janet Betty born 09 Sep 1814
Agnes Beaty born 12 Mar 1817
Barbara Beaty born 02 Sep 1819
All names and dates of birth have been verified at the scotlandspeople.gov.uk website and have been added to my Family Tree at Ancestry.com. I have now begun to research this new generation of Beattie family members and already discovered some interesting facts.  For instance, Ann Cameron Beattie appears to have separated from her husband sometime between 1820 and 1841.  Ann is seen in the 1841 Scotland Census living alone and then with her single daughter Barbara on High Street in 1851.  The 1851 Census lists her occupation as housewife, so maybe there is another reason for them living separately. Ann's husband Robert is found on High Street in the 1841 Census living with his single twenty year old daughter, Janet Beattie.
I have not been able to find a death record for Robert yet, but I did find one for Ann.  She died 2 Jun 1869 in Kirkcudbright.  Daughter Janet was listed as the informant.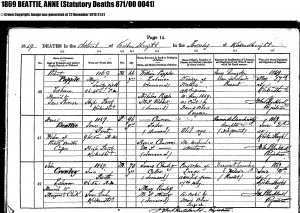 This brings the known Beattie Family Tree back to 1776 with many more new cousins to look for.
Posted: November 23, 2010