It is amazing how things can suddenly seem so clear after relaxing your mind and giving yourself some time away from a problem. Such is the case with a photograph I found in the inherited collection of Virginia Tierney Bishop.
The first time I went through Virginia's photos, I had dismissed the man in the photo below as being a member of her mother's family from down south. On the back, the inscription reads "A corner in the parlor." Virginia's collection has lots of unlabeled photographs that clearly depict a southern family. So this one just got grouped in with the others.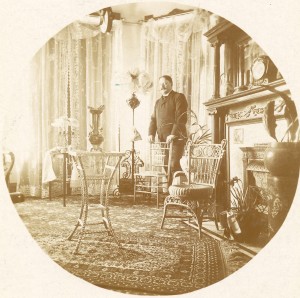 Click to Enlarge
Last night, when I was scanning some photos for one of Virginia's newfound cousins, I came across this photo again. This time I took a closer look. Specifically, I looked at the stamp that identifies the photography studio at which the photo was processed.
It read:
Hirsch & Kaiser
Opticians
7 Kearney St
San Francisco
There was only one Tierney relative that I know of that lived in San Francisco back in the late 1890s – early 1900s. His name was John Lawrence Tierney (b. 20 Apr 1865, d. 21 Dec 1907). John was the brother of James (my great grandfather), Thomas William Tierney, Frank A Tierney (the decorated NYC Police Officer) and Joseph Tierney. He left New York for California sometime around 1890 and married Isabella Ethel Danglada. He was a merchant in the hat business.
John was very close with his nephew Frank Tierney, son of brother James F Tierney. In fact he had wrote dozens of letters to Frank that survive to this day in an archived notebook in my possession. Using those letters, I did a handwriting comparison. I am convinced that the handwriting on the back of the photo is that of John L Tierney. It would make perfect sense that Frank Tierney would have a photo of John since they were so close.
John died in 1907 of stomach cancer. He was 42. He left behind his loving wife Isabelle, but had no children of his own.
One more Tierney photograph identified!
RELATED ARTICLES