Jeanne T. Lewis started to play the piano at age 7 in 1932. The base of what she learned and what she continues to pass on today to her students, comes from her first music teacher, Mrs. Charlotte Brush. Mrs. Brush had a little studio in a house located on Larchmont Avenue in Larchmont, New York, where she would go to for regular lessons right up to the time she entered high school. She then picked up lessons with Mrs. Elizabeth Read of New Rochelle. Mrs. Read taught her for several years and helped prepare her for her College. She also experienced "duo" piano playing with Mrs. Brush's daughter, Virginia under Mrs. Read's tutorage.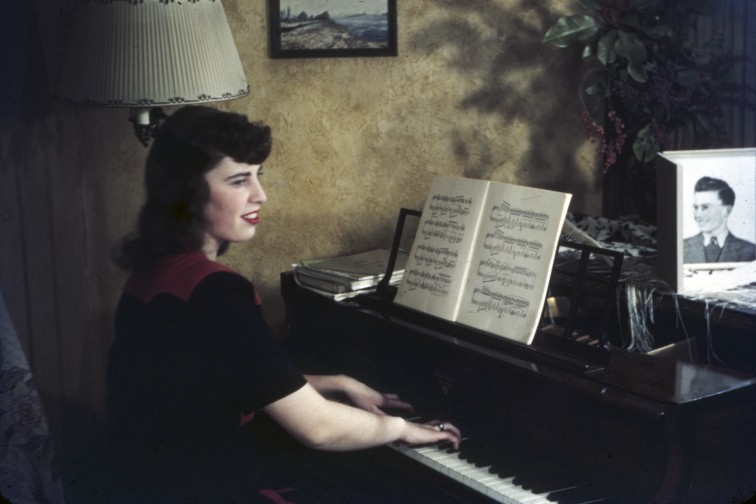 One of her most intriguing and wonderful stories comes from a neighbor and good friend of hers when she lived in Larchmont, NY. Her childhood friend was a girl named Patty Coots. Jeanne played almost every day with Patty as a little girl. In fact, we have several pictures of them playing together in the family photo archive. Patty's father was Jay Fred Coots, better known for a little song he wrote called "Santa Clause Is Coming Town". Jeanne would often hear Patty's father playing his piano, composing one of his many well known compositions. One day, Jeanne was treated to a very special memory. Jeanne was there when Patty, at age three, stood on the stage of the Murray Avenue School in Larchmont, New York and sang the first public rendition of the now very famous song; "Santa Clause is Coming To Town" while her dad played the piano.
In the 1940's, Jeanne began her college career at Syracuse University where she pursued a bachelor's degree in "Music". After College, Jeanne was hired by the Oceanside Long Island School System as an Elementary Music Teacher, where she taught grades 1 – 6. In 1949, while teaching in Oceanside, she managed to secure a "Master of Art" degree from Colombia University. Her degree is signed by Dwight D. Eisenhower. It was the only year that he was the President of the University.
Jeanne soon found herself on the other shore of Long Island teaching in the Great Neck School System. While she was at Great Neck, she would occasionally teach at New York University where she helped out with their "Rhythmic Programs" run by the Athletic Department. She soon married John J. Hayes of New Hampshire and moved to Towson, Maryland where John's work took him.
While in Towson, she briefly assisted at Goucher College. Soon, she moved back to Chappaqua, New York, where she lived for more than 25 years and participated in a wide variety of jobs and hobbies that kept her very active with her music.
In 1965, she became very involved in the Chappaqua Drama Group, playing the piano and coaching vocals for more than 20 musicals covering a span of more than 20 years.
In 1974, she became very involved with helping out with the Senior Class Musicals at Horace Greeley High School in Chappaqua. For many years she helped hundreds of High School Seniors with their first and sometimes only audition for a stage show. Among others, some of her notable students included, Vanessa Williams (Class of 1981) and John Ahlin (class of 1974).
In the late 1970's, she began teaching private vocal and piano lessons and continues to do so today. In fact, she has taught several people who were on or eventually moved onto Broadway.
Today, Jeanne seldom has to read sheet music, as hundreds of songs and their notes are permanently etched into her memory. If she had ever been given the opportunity to play on the game show "Name That Tune", she would surely have cleaned up!