Police Officer Patrick S. Hanley, the son Ellen Hayes and Daniel Hanley and a New York City Patrolman for almost 25 years was shot in the back while trying to apprehend a man who had "shot another brother officer just moments before".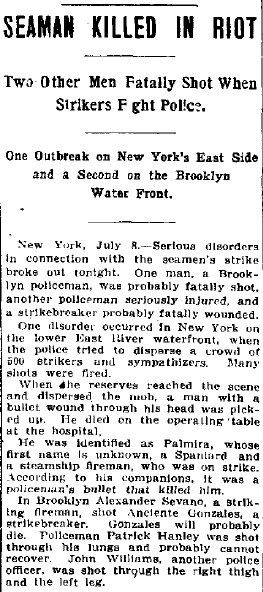 In 1912, there was a "Seamans" strike on the docks of Brooklyn.  On the night of July 8, 1912, violence broke out on the lower East River waterfront when Police moved in to disperse an agitated crowd of 500 strikers and sympathizers. Shots were fired.  One strike breaker was killed with a shot to the head and another  police officer wounded.  "While trying to apprehend one of the suspected shooters," Officer Patrick Hanley was shot in the back and severely wounded.  The bullet pierced his lung.
Patrick survived for three years after the shooting but succumbed in June of 1915 to pleurisy brought on by the old wound.  Patrick was 50 years old and left behind a wife and six children.
I did some extensive internet research and could find no record of him at any of the local or national Fallen Police Office Memorials.  This is strange because today, this would most certainly be considered killed in the line of duty.  Also strange because the only article I could find that mentions this incident, comes from Washington, DC. And that article mentions the officer's were shot in passing.  It didn't even make the headline! Could this be a case of friendly fire that nobody wants to talk about?  The story from one witness states that the strike breaker who was killed met his fate by a Police Officers bullet.  Maybe my great Uncle suffered the same fate?
I'll try to get some official accounting of the incident from the City of New York.  I'm not going to hold my breath on finding too much info on this.  Everything about the story is strange.
Additional Sources: