Including Members Of The Hayes, Tierney, Lewis, Beattie, Sheehan, Yerks, Condos, Smith and Other Families
You are currently browsing the archives for the Places category.
Archive for the 'Places' Category
I found a nice map of Historic High Street in Kircudbright, Scotland.
I found this wonderful article at old-kirkcudbright.net written nearly 100 years ago about Kirkcudbright circa 1830.  So this is the story of how Kirkcudbright was almost 200 years ago. What makes this find so great is that it mentions Robert Beattie on High Street.  This is my great-great-great grandfather. In 1841, Robert lived on High Street with his entire family.  He was a merchant sailor but his family ran an Inn / Pub on High Street.  His son and my great-great-grandfather, Jonathan, came to the US in 1842 and settled in Brooklyn, New York.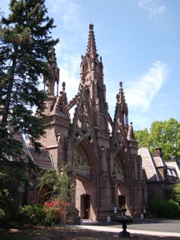 The Green-Wood Cemetery has long been considered one of the world's most beautiful cemeteries and is the final resting place of nearly 600,000 persons, including some of history's most memorable figures. Since its establishment in 1838, The Green-Wood Cemetery has offered a dignified selection of burial options including an urn garden, columbarium, community and private family mausoleums, as well as traditional, in-ground burials, all in a historic, non-sectarian setting. With 478 acres filled with thousands of trees, flowering shrubs and four lakes, The Green-Wood Cemetery offers eternal tranquility among timeless beauty.